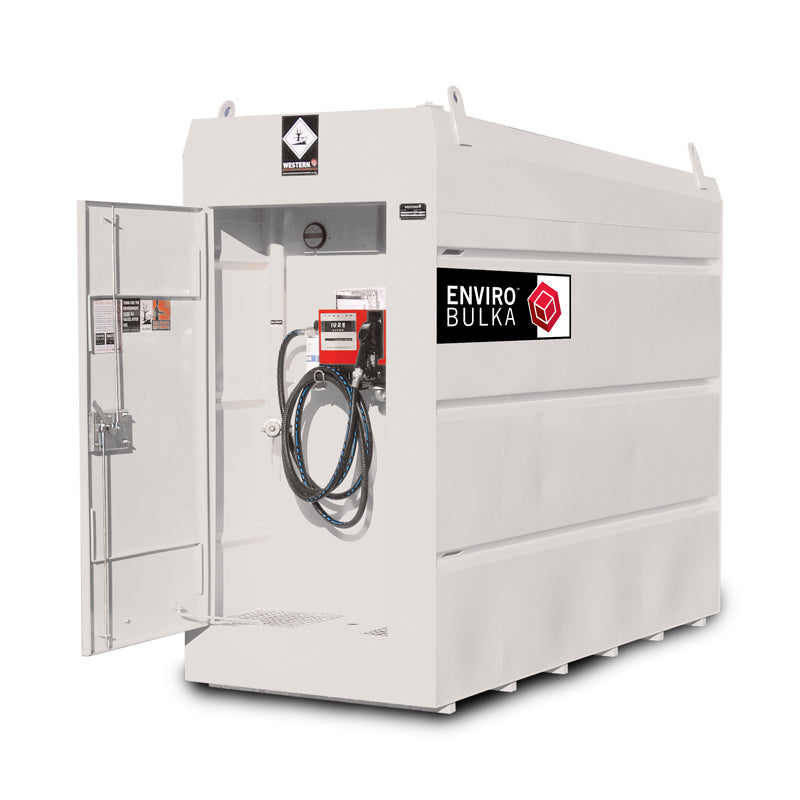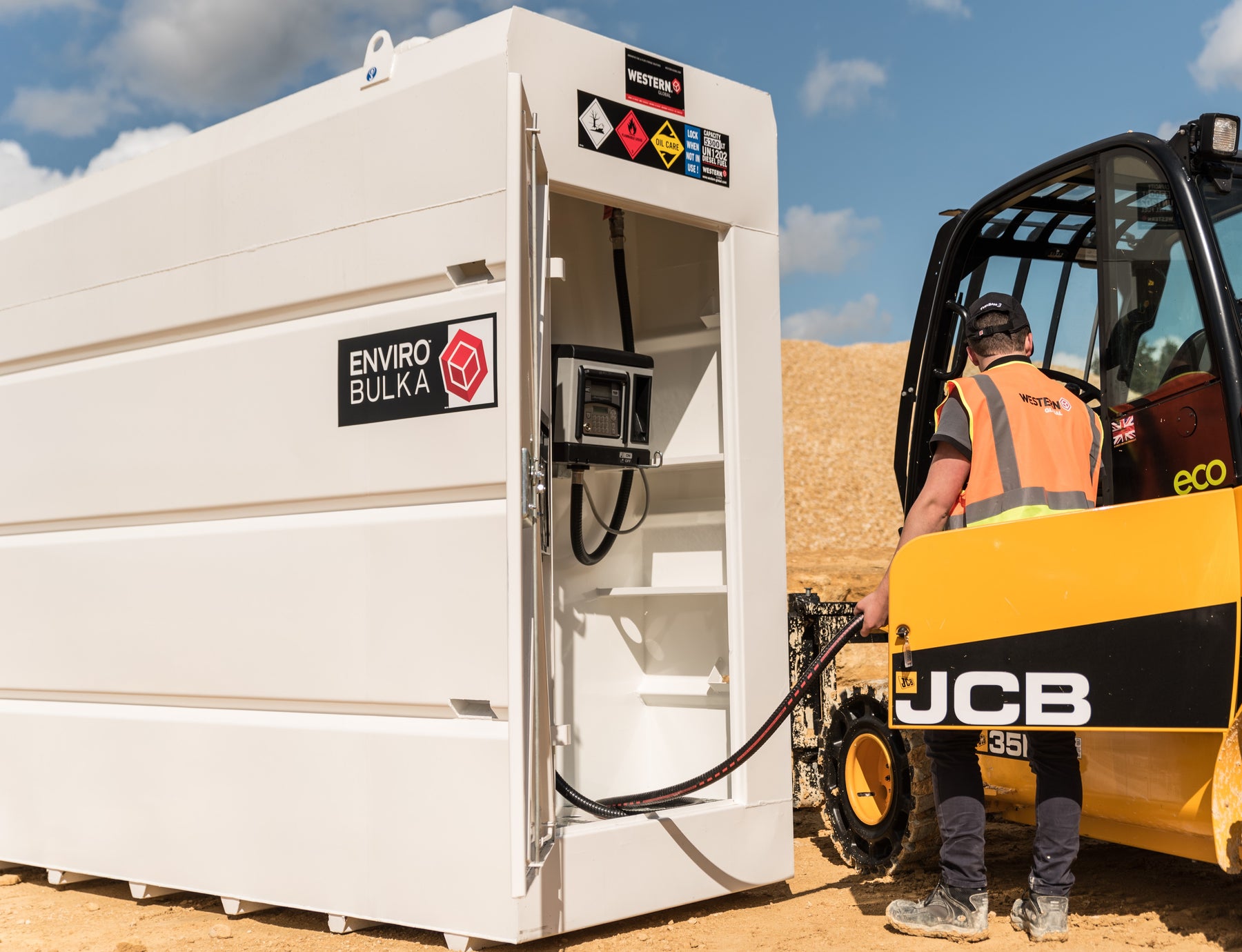 5300 Litre Steel Bunded Diesel Fuel Tank Station - Western EnviroBulka
Availability in: 3-4 Weeks
Dimensions: 3000mm (L) x 1200mm (W) x 2475mm (H)
Volume: 5300 Litres / 1200 Gallons
Weight: 1430 Kg
Envirobulka static, 110% bunded fuel tank, built to BS799 Part 5 & to comply with PPG2 Regulations, UN Approved to be transported full of fuel or empty (not part full)
---
Design Features:
Robust steel in steel construction ensures security, whilst 110% weatherproof bund complies with environmental requirements for fuel storage.
Pump, nozzle, hoses and generator feed & return connections are all housed within secure, lockable bund compartment. Feed and return hoses can be fed through openings enabling generator to be run whilst connections are kept secure in compartment – helps to prevent theft and vandalism.
Manhole providing access to inner tank for maintenance and inspection.
Fitted with lifting eyes and forklift access for ease of handling while empty and relocation of tank.
All outlets are top mounted above fuel level helping prevent seepage of fuel. Suction pipe to help remove any fluid in the bund.
Optional anti-siphon valve available for extra environmental protection.
3-Point locking mechanism for additional security.
Cabinet Drip Tray with galvanised H/D tread mesh.
Bund sensor to detect fluid in bund.
Standard Tank Fittings:
2" Fill Point
2" Vent
Sight Glass
Contents Gauge
1" Pump Feed
Extra 2" Fill Point
2 x ½" Generator Feed & Return Ports
2 Spare 1¼" Ports for additional equipment
Bund Drain Pipe
Bund Alarm
Delivery is available across the UK including Northern Ireland.
Delivery to the Republic of Ireland available on request.
Specific UK Postcodes may incur a delivery surcharge CA, DH, DL, NE, SR, TS, DG, TD, EH, G, ML, PA, FK, KA, KY, PH, AB, D, IV, KW
Specific time slots are available at an additional charge.

There is a minimum access requirement for delivery locations. Sites must be able to accommodate a minimum 32 foot length rigid body truck with suitable surface material of either tarmac or concrete only, should there be a requirement for the use of tail lift. The driver can only move the pallet within an area if it is tarmac or concrete and generally cannot assist with the opening of the pallet.
Please note all standard pricing quoted on the website exclude lifting equipment required to off load delivery vehicles (unless by prior arrangement).

Please note that if no-one is available to accept the delivery our driver will leave the pallet on your property on an area deemed suitable.

If product is returned with driver the buyer shall pay minimum charge of £50.00.

If you have any special requirements please contact us before placing your order.

Completion of your order is agreement to our Terms & Conditions of Sale.
• The Manufacturer's warranty terms and conditions will apply to all products
• The Fuel Tank Shop accept no responsibility for damages or losses due for the product
• Manufactures quality standard apply