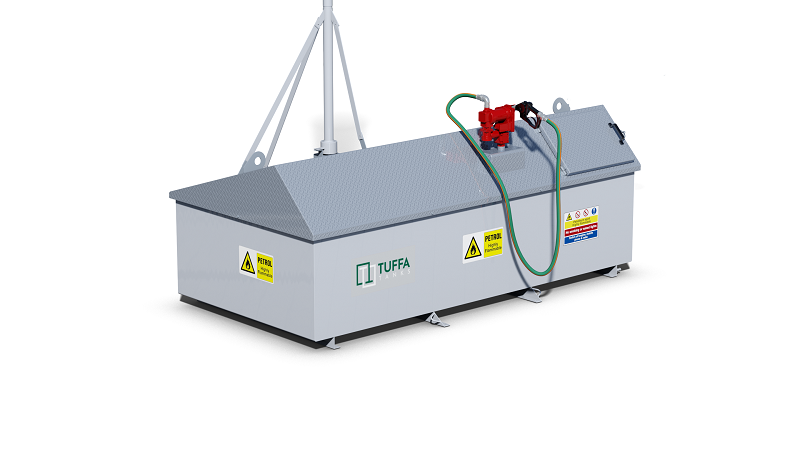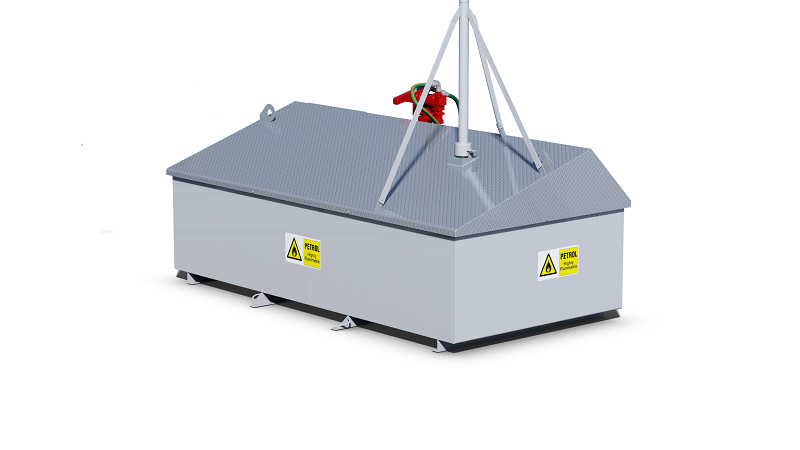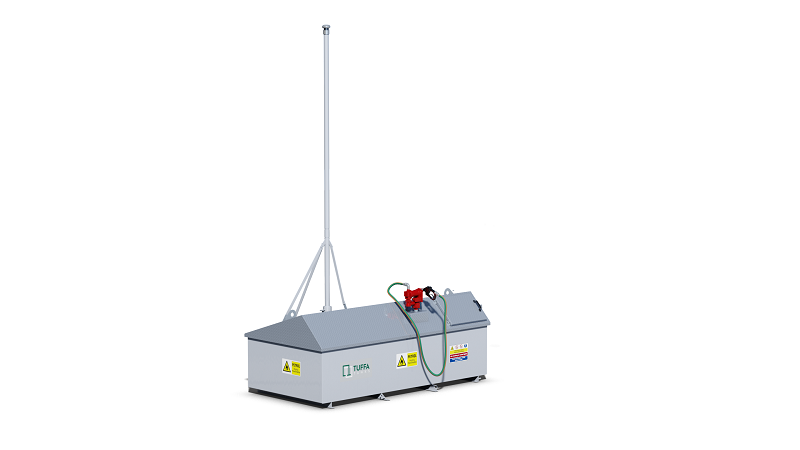 1850 Litre Petrol Tank - Petrol Storage Tank - Tuffa Tanks
Availability in: 6+ Weeks
Dimensions: 2860mm (L) x 1460mm (W) x 4500mm (h)
Volume: 1850 Litres / 405 Gallons
Weight: 1050 Kg
Tuffa Tanks' mid-capacity petrol tank, the 1850 Litre Petrol Tank, is popular with groundskeepers and in the marine sector. The primary tank and bund are made of 3mm thick mild steel that is covered with 4.5mm steel durbar. The primary tank is then encased in an integrally fitted fire-resistant jacket. Tuffa Tanks petrol tanks are exceptionally safe, strong, and durable, with a life expectancy of more than 30 years when properly installed, utilised, and maintained.
---
Outlet/Pump Options:
Hand Pump (0.9 Ltr per Stroke)
Description:
Fire protective jacket on primary tank,
4" BSP fill connection with cap and chain,
2" 4.5m spark arrestor vent stack,
Lockable access hatch,
Plastic dipstick,
Fork lift skids,
Bolt down connections,
Earth strap and rod,
Powder coated paintwork. Colour: RAL 7035 Grey (tank and vent) and RAL 9006 Grey (lid),
11/2" top suction complete with anti-syphon valve,
Steel welded construction for primary tank and bund
Delivery is available across the UK including Northern Ireland.
Delivery to the Republic of Ireland available on request.
Specific UK Postcodes may incur a delivery surcharge CA, DH, DL, NE, SR, TS, DG, TD, EH, G, ML, PA, FK, KA, KY, PH, AB, D, IV, KW
Specific time slots are available at an additional charge.

There is a minimum access requirement for delivery locations. Sites must be able to accommodate a minimum 32 foot length rigid body truck with suitable surface material of either tarmac or concrete only, should there be a requirement for the use of tail lift. The driver can only move the pallet within an area if it is tarmac or concrete and generally cannot assist with the opening of the pallet.
Please note all standard pricing quoted on the website exclude lifting equipment required to off load delivery vehicles (unless by prior arrangement).

Please note that if no-one is available to accept the delivery our driver will leave the pallet on your property on an area deemed suitable.

If product is returned with driver the buyer shall pay minimum charge of £50.00.

If you have any special requirements please contact us before placing your order.

Completion of your order is agreement to our Terms & Conditions of Sale.
• The Manufacturer's warranty terms and conditions will apply to all products
• The Fuel Tank Shop accept no responsibility for damages or losses due for the product
• Manufactures quality standard apply