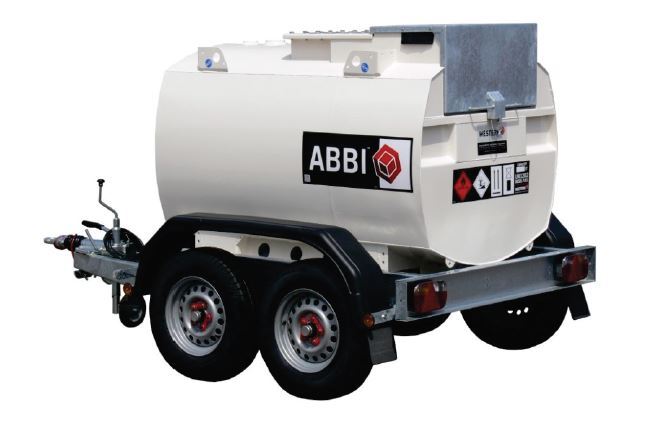 950 Litre Steel Bunded Diesel Bowser Twin Axle - Western ABBI Highway Tow
Availability in: 1-2 Weeks
Dimensions: 3020mm (L) x 1720mm (W) x 1800mm (H)
Volume: 950 Litres / 210 Gallons
Weight: 925 Kg
The Abbi Highway Tow is a range of fully bunded fuel tanks designed for transportability and ease of use. Mounted on a type approved highway trailer fitted with European specified lighting and under-gear, this range of fuel storage tanks are well suited as a mobile bowser, travelling around construction sites refuelling all applicable machinery and equipment.
---
The Highway Tow ABBI consists of a steel in steel U.N. (United Nations) approved IBC (Intermediate Bulk Container) suitable for transporting diesel fuel on the highway. The ABBI is fully bunded to ensure environmental compliance with Pollution Prevention Guidelines (PPG2).
Secure lockable access hatch to enclose pumping equipment.
110% bund capacity.
Direct access into the inner tank via manhole for cleaning and inspection.
Full load can be achieved using single lifting eye.
Internal baffles for safe towing.
Twin axle highway tow trailer with Type Approved chassis.
Easily demountable from trailer.
Standard Tank Fittings:
3" Fill Cap
Contents Gauge
1" Pump Feed
Pressure Vent
Vacuum Vent
Generator Feed & Return Ports
Pump Bracket
Inspection Manhole
Bund Dipstick
Bund Emptying Pipe
Brake Specification: 200 x 50 auto reverse brakes
Chassis: Hot dipped galvanised
Wheels & Tyres: 185R14 Tyres on 5 stud wheel
Mudguards: Moulded polythene
Jockey Wheel: 48mm telescopic jockey wheel. 1 x rear dropleg
Lighting: Full EU 13 pin plug. Wired to ISO standard with fog & reverse lamps.
Coupling Specification: (2000kg), ball or 40mm eye as specified
Suspension: Twin rubber suspension axle 1500kg gross
Design Approvals: ADR IBC Type 31A. Type Approved Chassis
Design Standards: Bunded to COP Regulations (PPG2).
Delivery is available across the UK including Northern Ireland.
Delivery to the Republic of Ireland available on request.
Specific UK Postcodes may incur a delivery surcharge CA, DH, DL, NE, SR, TS, DG, TD, EH, G, ML, PA, FK, KA, KY, PH, AB, D, IV, KW
Specific time slots are available at an additional charge.

There is a minimum access requirement for delivery locations. Sites must be able to accommodate a minimum 32 foot length rigid body truck with suitable surface material of either tarmac or concrete only, should there be a requirement for the use of tail lift. The driver can only move the pallet within an area if it is tarmac or concrete and generally cannot assist with the opening of the pallet.
Please note all standard pricing quoted on the website exclude lifting equipment required to off load delivery vehicles (unless by prior arrangement).

Please note that if no-one is available to accept the delivery our driver will leave the pallet on your property on an area deemed suitable.

If product is returned with driver the buyer shall pay minimum charge of £50.00.

If you have any special requirements please contact us before placing your order.

Completion of your order is agreement to our Terms & Conditions of Sale.
• The Manufacturer's warranty terms and conditions will apply to all products
• The Fuel Tank Shop accept no responsibility for damages or losses due for the product
• Manufactures quality standard apply