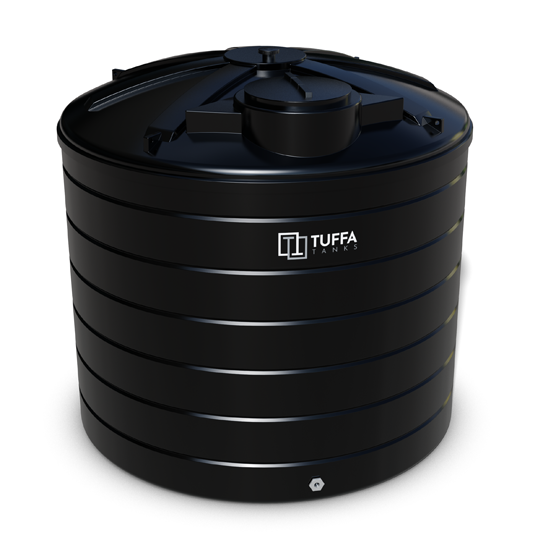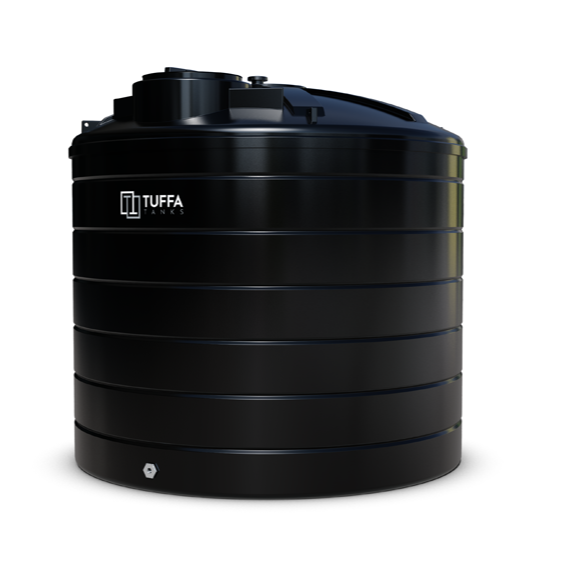 10,000 Litre Plastic Water Tank - Tuffa Tanks
Availability in: 3-4 Weeks
Dimensions: 2550mm (Dia) x 2450mm (H)
Volume: 10,000 Litres / 2200 Gallons
Weight: 240 Kg
Tuffa Tanks 10,000 Litre Water Tank is suitable for domestic, agricultural, commercial, industrial, agricultural, horticultural and irrigation applications

---
10,000 Litre Plastic Water Tank - Tuffa Tanks
This 10,000 Litre water tank is available with a wide range of options such as Waste Water Tank, Rain Water Harvesting and Molasses Storage.
Standard Specifications:
2" BSP female bottom outlet,
Screened vent,
600mm screwlid,
Colour: Black
Delivery is available across the UK including Northern Ireland.
Delivery to the Republic of Ireland available on request.
Specific UK Postcodes may incur a delivery surcharge CA, DH, DL, NE, SR, TS, DG, TD, EH, G, ML, PA, FK, KA, KY, PH, AB, D, IV, KW
Specific time slots are available at an additional charge.

There is a minimum access requirement for delivery locations. Sites must be able to accommodate a minimum 32 foot length rigid body truck with suitable surface material of either tarmac or concrete only, should there be a requirement for the use of tail lift. The driver can only move the pallet within an area if it is tarmac or concrete and generally cannot assist with the opening of the pallet.
Please note all standard pricing quoted on the website exclude lifting equipment required to off load delivery vehicles (unless by prior arrangement).

Please note that if no-one is available to accept the delivery our driver will leave the pallet on your property on an area deemed suitable.

If product is returned with driver the buyer shall pay minimum charge of £50.00.

If you have any special requirements please contact us before placing your order.

Completion of your order is agreement to our Terms & Conditions of Sale.
• The Manufacturer's warranty terms and conditions will apply to all products
• The Fuel Tank Shop accept no responsibility for damages or losses due for the product
• Manufactures quality standard apply